Why Choose Laser Hair Removal?
It might be wintertime in Northern Colorado, but that doesn't mean that you have to forego having silky smooth, hair-free skin. Laser hair removal is an effective hair removal method that can provide you with months of beautifully bare skin, and Xanadu Med Spa is your go-to source for laser hair removal in Fort Collins. Our spa proudly offers our clients Cutera excel HR™, a premium laser hair reduction technology that is suitable for women and men, and it is safe for all types of skin. Ready to learn more about this incredible service? Check out five benefits of laser hair removal below and contact our med spa for an appointment!
5 Benefits of Laser Hair Removal
Fast and Effective
When you have unwanted hair, you don't want to spend hours trying to remove it, and you want any regrowth to occur as slow as possible. If you have never had laser hair removal in the past, you might be surprised at how fast treatments can actually be. For example, the bikini area and underarms can be treated in about 20 minutes and you should begin seeing results in just a few weeks. Even better, because this hair removal method is so effective, you'll save yourself a great deal of time that would have otherwise been spent plucking, waxing, or shaving away unwanted hair.
Precise
Waxing can be somewhat of an imprecise practice, and there are some areas, like your eyebrows and bikini line, that are just too sensitive or small to accommodate a razor. Likewise, intense pulsed light (IPL) hair removal is not as effective on light-colored hair as it is on dark-colored hair. Laser treatment, on the other hand, is very precise, targeting hairs way down into the 2nd layer of skin right at the follicle, making it a very accurate hair removal method for all skin tones. This precision also equates to seeing results much sooner than you would with other methods.
Cost-Effective
We have found that some individuals put off trying laser hair therapy because of the up-front cost associated with the treatment. However, many of our clients comment on how much money they are actually saving in the long run, and this makes sense when you stop to think about it. Once you begin receiving laser treatments to remove unwanted hair, you'll spend less and less money on expensive razors, shaving creams, and hair removal creams. Nor will you have to continue your regular visits to the waxing studio. Superior results and more cost-effective in the long run? Sounds like a win-win situation!
No Need to Grow Hair Between Appointments
When you choose laser hair removal, gone are the days of waiting for your hair to grow out in between waxing sessions. Imagine, no more unwanted hair with vacations and special events just because your hair wasn't long enough to be removed yet! In fact, not only can you shave as much as you want in between laser treatments, but you are actually encouraged to shave within 24 hours of your hair removal appointment. This is because the hair only needs to be in your skin, not above your skin, for the laser to work its magic.
Safe for Sensitive Skin
Knicks and cuts are inherent risks of shaving, as are painful, unsightly ingrown hairs. Waxing and plucking can also result in skin irritations, and those who have sensitive skin are more prone to experiencing these discomforts after their hair removal session. Laser hair removal is perfect for all skin types, even sensitive skin. Even better, you won't have to worry about ingrown hairs, razor burn, or irritation. In fact, there is some evidence that suggests laser treatments can even improve ingrown hairs.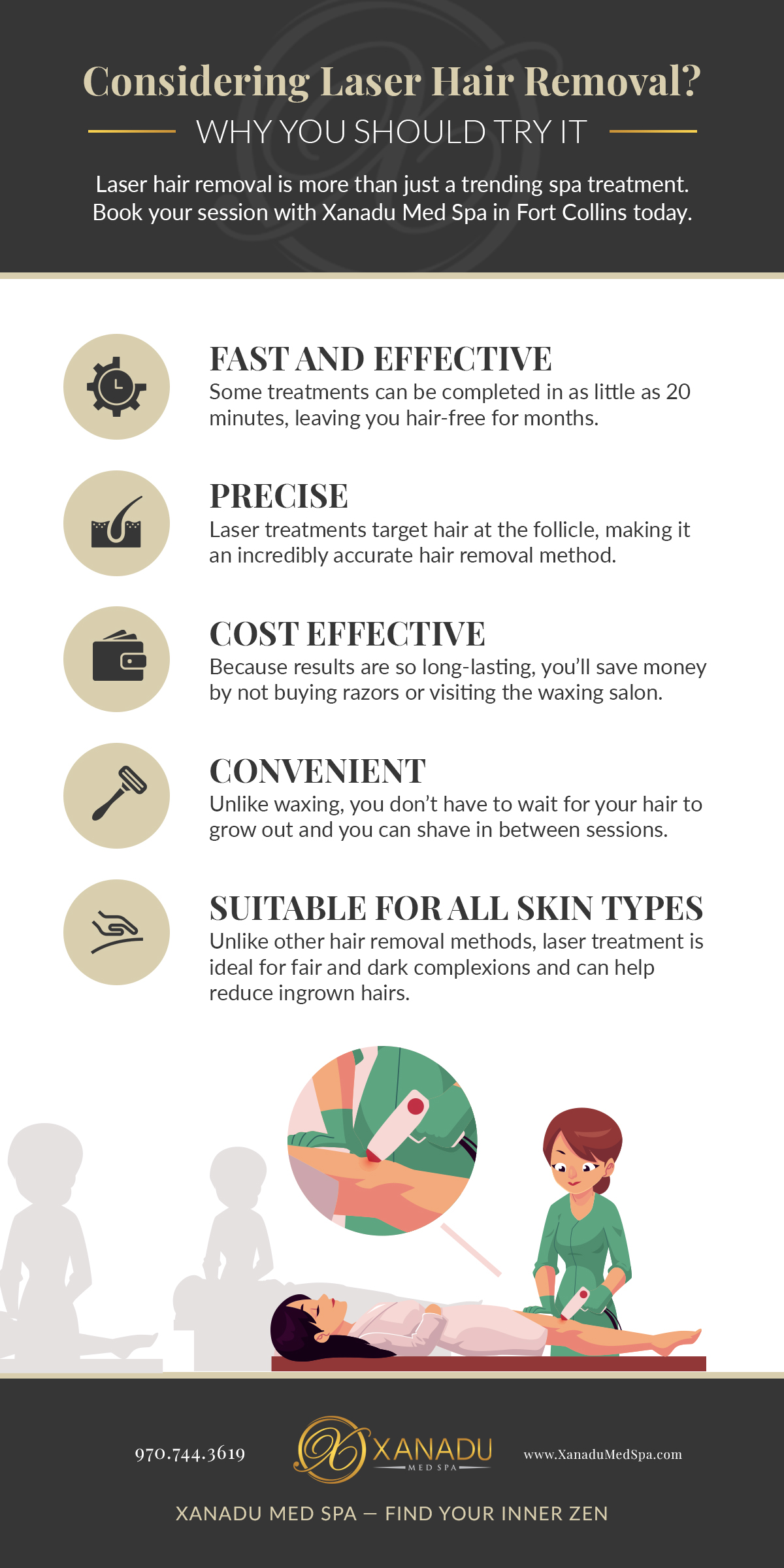 Preparing for Laser Hair Removal
All of those benefits sure sound great, don't they? If you're considering laser hair therapy, you might be curious about how to prep for here. Our aestheticians will walk you through the process when you make your appointment, but in the meantime, here are some general pointers:
Be diligent about protecting your skin from the sun starting six weeks before treatment.
Avoid waxing, plucking, or otherwise removing your hair for at least four weeks before your appointment.
Disclose any medications you are on, over-the-counter or otherwise, during your consultation.
Take photos so that you can use them to provide a before-and-after comparison following your treatment.
Shave the area to be treated within 24 hours before your appointment.
Laser Hair Removal Fort Collins
Long-lasting, hair-free skin can be yours without the hassle of tweezing and waxing, and you don't have to suffer from the pain that ingrown hairs can cause. Laser hair removal takes only a matter of minutes, and after six to eight treatments, you'll see a marked reduction in unwanted hair. Xanadu Med Spa provides safe, effective treatments to help you find your inner zen, and we'd love to speak with you about your beauty goals. Give us a call at 970-289-0838 to speak with one of our highly skilled, licensed aestheticians to learn more about our Fort Collins laser hair removal services!