The Only FDA-Approved, Non-Surgical Fat-Reduction Procedure
CoolSculpting in Fort Collins
Sometimes, no matter how much you diet or exercise, you just can't get rid of fat. CoolSculpting is the only FDA-approved, non-surgical fat-reduction procedure designed to rid your body of stubborn fat the natural way.
Xanadu Med Spa in Fort Collins offers CoolSculpting, which targets fat cells by freezing them. Your body then naturally removes them over a period of time as the cells die off. For most people, there are no side effects, and the procedure is quick. You may need more than one treatment, depending on the size of the area you are targeting. Contact us today for a free consultation!
How Does CoolSculpting Work?

CoolSculpting® for Northern Colorado
CoolSculpting is exactly what it sounds like it is: the sculpting of your body through the aid of cooling. When the temperature of your body's fat cells hit around 40 degrees, they die with no harm to the nearby organs or skin. This results in about a 20% reduction in fat cells in the treated area, taking between two and four months for the full effects to be seen. However, there is no downtime, anesthesia, surgery, or needles, making this non-invasive procedure easy.
CoolSculpting®, an easy, long-term solution to eliminate ares of stubborn fat, offers a long-term solution that can reduce a portion of this stubborn fat and we offer this incredible med spa treatment right here at Xanadu Med Spa in Fort Collins.
The results of CoolSculpting can be permanent as long as you seek a healthier lifestyle with a healthy diet and exercise. CoolSculpting is not the cure for a poor diet. While you are removing fat cells, you still have fat cells that can expand if you eat poorly, eliminating any results you get from this procedure. As with any procedure, individual results may vary. However, many patients are satisfied with the results they experience, noticing a reduced appearance of visible bulges in many common trouble spots. These include unwanted fat along the chin and jawline, back, upper arms, abdomen, flanks, thighs, and buttocks.
The secret lies in a method called Cryolipolysis, which means "fat freezing." Frozen fat cells go through a process called apoptosis, a natural process in which they die off and fade away. During this process, which can take up to four to six months to complete, the fat cells are consumed by white blood cells, filtered, and processed by the body.
While it is not a weight-loss treatment, CoolSculpting is an FDA-cleared procedure and it is the No. 1 non-surgical fat-reduction treatment used by doctors.
Popular treatment areas for fat freezing include:
The Benefits Of CoolSculpting
Each of us has a certain amount of fat cells that we are born with. Some of these cells are more stubborn than others, and they may be resistant to even the healthiest diet and most targeted exercise regimen. Sometimes these areas are referred to as "muffin tops," "love handles," and "belly pooches." For years, individuals have either had to live with this stubborn fat or undergo invasive surgery to reduce their bulges — that is, until now.
CoolSculpting offers the most advanced fat-reduction technology in the industry, and it is the only FDA-cleared, non-surgical fat-reduction procedure available. Through controlled cooling, stubborn fat that is resistant to diet and exercise is treated. The result is smoother, more appealing contours. The treatment can take about 35 minutes and is performed at our med spa during your lunch break. It's the coolest, most innovative, non-surgical and natural way to reduce that stubborn fat.
Recap the benefits of CoolSculpting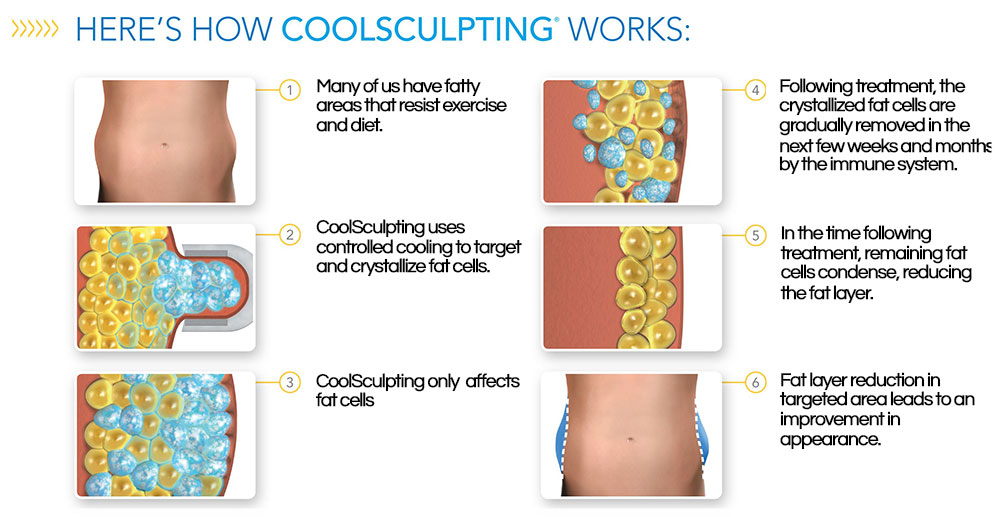 What Does A Coolsculpting Treatment Look Like?
You may need more than one treatment in order to see the results you desire. In addition, some people regularly undergo a CoolSculpting treatment in order to maintain their look. This FDA-approved fat freezing technology was developed by scientists in Massachusetts. The treatment is quick, with no downtime. During the treatment, the fat is drawn into a cooling panel, where all you will feel is a cold sensation. After about five minutes, the area goes numb. You will either be seated or lying down during the treatment. You can even watch TV, catch up on emails, or read a book during your treatment session. CoolSculpting is a great alternative to liposuction as there are no incisions. It is not a permanent weight loss solution for obese people.
A Natural, Cool Solution to Body Sculpting in Fort Collins
Unlike other fat-reduction procedures that use lasers, sonic waves, and surgical intervention, CoolSculpting works with your body's natural processes. More invasive treatments may be effective, but they come with the risk of injury to surrounding tissue in the area being treated. Beyond the risk of injury, other treatments require significant periods of downtime to allow your body to recover from the trauma it has undergone. Totally uncool, if you ask us. CoolSculpting was developed by Harvard scientists to specifically achieve improved contours without burning, shattering, or extracting fat cells from your body. Its patented procedure uses a targeted cooling process that works below the skin's surface to freeze unwanted fat cells to the point of reduction. No other tissue is frozen in the process — only the fat cells are, which means no knives, no needles, no suction, and no scars. CoolSculpting maintains the supple qualities of your skin while reducing stubborn fat below.
Minimal Downtime and Lasting Results
Perhaps the best part about CoolSculpting is the minimal downtime that the procedure entails. The treatment itself takes very little time, making it simple to fit into your daily schedule. What's more, after your treatment, you may even be able to get right back to your busy routine. Results may not be visible right away because it can take four to six months for your body to naturally process the fat cells. However, with a healthy diet and adequate exercise, we're confident you'll experience some type of effective results, understanding that results can vary from client to client.
Clinical findings
 on the effectiveness of CoolSculpting were published in the 
Journal of Cosmetic Dermatology, 
reporting "Caliper measurements demonstrated 
23% reduction in fat layer thickness at 3 months.
" Investigator assessments of CoolSculpting before and after pictures concluded 
"86% of subjects" showed improvement at the treatment area
, and patient surveys revealed 
"82% of patients would recommend the procedure to a friend."
Try Body Sculpting at Xanadu Med Spa in Fort Collins
Xanadu is a med spa in Fort Collins, which offers CoolSculpting treatments. We have when of the largest trained staffs for CoolSculpting in Northern Colorado.  When you visit us for a free consultation with one of our 6 trained professionals, we'll sit down with you and go over your personal goals in order to ensure CoolSculpting is right for you. Here, we can discuss the number of treatments you may need and answer any questions you might have. Xanadu offers a wide array of services, including Botox, dermal fillers, body sculpting, hormone therapies, permanent makeup, laser hair removal, Photofacial IPL, Kybella, teeth whitening, weight loss, massage therapy, facials, waxing, latisse, body wraps, and more. Our mission is to make you look and feel your best every day, and our med spa and day spa services do just that. We also sell many lotions and more in our skin care store. We want you to get the most out of your spa experience, and we do everything to make your service rewarding and everything you've wished.
So many of you ask how CoolSculpting works. This is a great video that walks through the basics of the procedure very nicely. Feel free to call us at (970) 306-6369 to schedule your free consult to get even more information.