Laser Skin Treatments
At Xanadu Med Spa, we are proud to offer our clients a variety of laser skin treatments.  Laser skin resurfacing offers a fresh start for your skin that can be free from blemishes and pigmentation. With a wide array of lasers and devices available, laser skin resurfacing can be completely customized for every patient's skin.

CO2 Fractional Laser Skin Resurfacing
Xanadu Med Spa in Fort Collins offers fractional CO2 laser skin resurfacing treatments for Northern Colorado. This is an advanced, non-invasive way to achieve smoother, healthier, and younger looking skin.  Pixel Perfect™ is a revolutionary skin resurfacing treatment from Alma Lasers that offers you the chance to look younger and let your inner radiance be free.
What is Fractional CO2 Laser Resurfacing?
A highly effective way to reduce wrinkles, scars, and other imperfections, laser skin resurfacing generally involves removing the damaged outer layer of the skin. In this way, it promotes collagen production and encourages the skin to replenish itself from the inside out, revealing a smooth and blemish-free appearance.
The earliest forms of laser resurfacing were very effective – but they caused a lot of damage to the skin. After undergoing traditional laser resurfacing, individuals had to face significant downtime and discomfort before their new complexion could emerge.
With the fractional CO2 laser, all of the benefits of traditional laser resurfacing remain – without the downsides. It's a much gentler way to rejuvenate the skin and achieve a more beautiful appearance. Pixel Perfect™ works by creating thousands of microscopic perforations while leaving the surrounding tissue intact.  This allows for very rapid healing. Pixel Perfect™ technology delivers the laser's therapeutic energy fast, shortening your treatment time without sacrificing its benefits.
At our med spa in Fort Collins, CO, we routinely use the Pixel Perfect™ fractional CO2 laser to treat the following cosmetic conditions on the face, neck, chest, and hands:
Fine lines and wrinkles
Sun damage
Acne scars
Skin discoloration
Age spots
Melasma
Uneven pigmentation
Irregular texture
Large pores
Stretch marks
Laser Genesis Skin Rejuvenation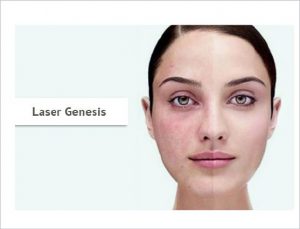 Laser Genesis is a breakthrough laser treatment that stimulates the skin's natural processes to reverse the signs of aging and sun damage. This medical-grade device helps promote a vibrant, healthy looking complexion. Suitable for all skin types, Laser Genesis can help improve pore size and the skin's texture, and it can be used to reduce diffuse redness.
Micro-pulses of laser energy safely heats the papillary and reticular dermis. In turn, this stimulates collagen production to improve fine lines and reduce scars.  This treatment developed by Cutera® requires no downtime and involves minimal discomfort.
A series of four to six treatments are recommended to achieve an optimal outcome and ongoing maintenance treatments are encouraged to sustain results.
This skin rejuvenation procedure can be used on the face, neck, chest, and body, and is most suited to those who would like to treat:
wrinkles/fine lines
rosacea/diffuse redness
scar redness (hypertrophic and keloid scars)
large pores
poikiloderma of civatte
skin texture irregularity
warts
onychomycosis/nail fungus
Benefits of Laser Genesis Skin Rejuvenation Treatments
No side effects
An extremely gentle procedure, Laser Genesis treats the skin conditions that concern you most, without bruising, swelling, or skin irritation. At the very most, you may experience slight redness in the treatment area that will disappear within a few hours.
It can treat a variety of skin conditions
An extremely versatile procedure, Laser Genesis can effectively treat a wide range of skin imperfections, including fine lines, large pores, uneven skin texture, diffuse redness, and scars.
No pain or downtime
Because Laser Genesis works to restore the skin from the inside out, there is virtually no discomfort or downtime associated with the procedure.
It delivers more beautiful skin
In addition to correcting cosmetic imperfections, the Laser Genesis is able to revitalize a dull complexion and restore your youthful, healthy glow.
Laser Genesis Results
Over the course of approximately five treatments, the Laser Genesis will gradually restore your skin's youthful glow. When you look in the mirror, you'll see a smooth and radiant complexion, as well as significant improvement in the appearance of fine lines, blemishes, and the size of your pores.
Spider Vein Treatment for Face and Legs
Xanadu Med Spa is also happy to offer spider vein treatments in Fort Collins. Our Cutera® Excel HR system delivers pulses of light energy which cause the blood within the vein to coagulate, eventually destroying the vessel which is later reabsorbed by your body. Blood flow will then be redirected to veins deeper below your skin's surface, allowing for a reduction in visible spider veins. It treats a range of vessels from tiny spider veins to deep blue reticular veins quickly, safely, and effectively. You may feel a stinging sensation during the treatment, and you may experience redness and minimal bruising after treatment.
CynoSure Elite Laser Treatments
We also utilize the CynoSure Elite MPX, the proven MultiPlex™ laser technology that delivers real results, fast! Recognized as the most versatile platform today, the Elite MPX addresses a wide variety of cosmetic concerns, including 
Unwanted hair
Pigmentation concerns
Redness
Wrinkles
Spider veins
Xanadu Med Spa specializes in the following laser treatment services in Fort Collins using the Elite MPX:
Facial and leg vein treatment

Treatment of benign epidermal pigmented lesions

Photo-aged skin

LaserFacial
What is Multiplex?
MultiPlex is the ability to sequentially fire different laser wavelengths through the same handpiece with precise timing to improve the outcome of treatment compared to single-wavelength treatment.
Why is Elite MPX Multiplex Technology Better?

MultiPlex has shown to be more effective in vascular treatments than the use of any single wavelength modality. Given the fact you are using two wavelengths simultaneously, the power of each can be turned down. This provides for an even more comfortable treatment for the client.
Who Is a Candidate for an Elite MPX Treatment?
Given the versatility of the Elite MPX, it can be used safely and effectively on all skin types. It provides superior results safely for the treatment of laser hair removal, spider veins, pigmentation, diffused redness, general dyschromia, and photofacial. If you are considering laser hair removal or laser skin treatments in Fort Collins, go with Xanadu Med Spa.
---
Book An Appointment
Relax, Renew, and Rejuvenate at Xanadu Med Spa of Fort Collins, CO