Why our NuFace Trinity Pro Device is in and traditional Facelifts are out!
We are ecstatic here at Xanadu Med Spa to introduce to you the Trinity Pro by NU FACE – our hottest new facial toning device that now may be incorporated with our facial services… and you can purchase your own to use at home! This handy new tool works to bring life back to your youthful skin by stimulating nerve and muscle cells to tone and regenerate skin and muscle tissue. This muscle toning device is available at Xanadu for purchase.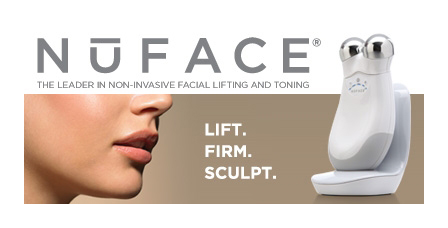 The microcurrent instrument was first introduced by Chinese Doctor, Dr. Thomas W. Wing, in the late 1970s. Acting as the new age "acupuncture", this method of rejuvenating skin was remodeled in the 1980s  to add "microcurrent" as a new wave form. This current helps in benefiting the treatment of muscles to lengthen, shorten and strengthen. Microcurrent is FDA approved to be marketed as a muscle stimulator, cell rejuvenator, facial toner and wrinkle reducer.
Medical conditions such as Bell's palsy can be aid their facial paralysis with the use of stimulating microcurrents that can ease facial nerves. This miracle age-defyer can give long-term results in an array of ways. It has the ability to reconstruct muscle tissue stretching and tightening—stretching out any cramped or shortened muscles. Current stimulation increases the rate of which the body produces protein, which reduces the aging effect on an individual's muscle. It speeds up the rate that the skin produces its own connective tissue fibers, collagen and elastin—making for a strong layer of skin. The regenerative effect of microcurrent helps to increase skin and muscle metabolism which makes for a great anti-aging treatment. Overtime, the body's ability to produce its own biological current (which produces cell growth, metabolism, cell breed and abruption) slows down resulting in loose skin, age spots and wrinkles. The Nu Face Trinity can mimick this biological production and undo the downward effects by sending microcurrents to the skin to encourage collagen and elastin production.
So just how effective can microcurrent treatments be for someone's face? Studies showed results of a healthier appearance after 20 days of treatment; collagen production was increased by 14%, elastin by 48% and blood circulation by 38%. The study also found that the microcurrent treatments set off the body's production of amino acids and ATP (Adenosine Triphosphate) which both speed up cell repair and encourage healthier cell production.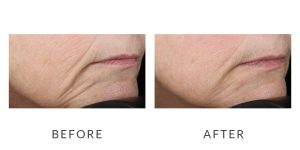 How To Use Nuface Trinity Pro Device
The duel tipped probes on the Trinity are the source that carries the microcurrent to the face. Applying a gel primer to a clean face helps to glide the Trinity across the countours of the face with ease for a soothing and mild treatment. The gel is odorless, colorless, water-soluble, non-allergenic and safe for sensitive skin.
Lift and hold movements are applied to each section of the face for an average of 5-10 seconds, or 1-2 beeps. Common areas the Trinity device is used on includes the corner of mouth and eyes, jawLine, cheekbones, forehead and above and below the eyebrows. The microcurrent effect being applied to these areas will help with muscle reception and teach the muscle to respond better to nerve stimulation.
Results will show diminished lines and a firmer, more contoured and toned facial muscles. Nu Face has shown statistics that within 2 months, 85% of users see better facial contours and 73% see better facial tone.