Fort Collins Laser Genesis Facials
Laser Genesis Skin Rejuvenation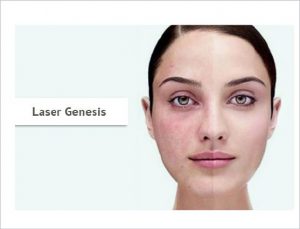 Are you searching for a non-invasive way to reclaim the vibrant, healthy-looking complexion of your youth? If so, Laser Genesis by Cutera® may be the medspa treatment you have been looking for. This breakthrough laser treatment works to stimulate your skin's natural healing process to reduce the appearance of wrinkles, redness, sun damage, and other signs of aging. Even better, it is suitable for all skin types, requires no downtime, and it involves minimal discomfort. We offer this incredible service right here at Xanadu Med Spa in Fort Collins so give our team of experienced estheticians a call to learn more about it today.
For all skin tones we choose Laser Genesis.  Laser Genesis is a revolutionary rejuvenation method, it feels relaxing and warm, and your skin looks healthy right after the treatment.  There is no redness, no blistering, and no downtime that we often hear horror stories about with laser treatments.  Our patients describe that the treatment feels like 'warm water drops', and many find it soothing and relaxing.
Laser Genesis For Anti-Aging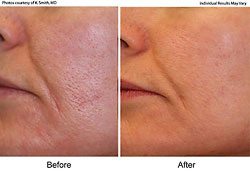 The best part about Laser Genesis is that it actually stimulates your skin to improve collagen production.  By improving collagen (the molecule of youth) Laser Genesis can shrink pore size, improve acne and acne scars, reduce fine lines and wrinkles, and firm skin.  We recommend a series of 3-4 laser genesis treatments in order to see the best results.  Another bonus of Laser Genesis is that as collagen builds over the six months after your treatment, your skin continues to rejuvenate and improve!
Laser Genesis For Rosacea
Laser Genesis also is used to treat rosacea.  The heat and laser wavelength from Laser Genesis help to resolve small broken capillaries that cause rosacea patients a ruddy, uneven, flushed appearance.  Check out a before and after pictures of laser genesis treatment for rosacea.
Laser Genesis For Acne
Acne can be successfully treated with Laser Genesis alone, or in combination with skin exfoliation treatments (chemical peels), home care regimens, and/or medication.  During your acne treatment with Laser Genesis, the laser wand is waved over your skin and the wavelengths and heat work to kill the bacteria that cause acne, improve the collagen production to reduce scarring, and reduce pore size.
Before your Laser Genesis treatment, we ask that you stop using your products and topical medications with active ingredients for 1-2 days.  You may restart these 1-2 days after treatment provided your skin is not irritated.
Laser Genesis for Anti-Aging, Pigmentation and Brown Spots
Laser Genesis is used to improve wrinkles and skin pigmentation, especially when used in combination with some of our skin care products.  It provides an innovative, technologically advanced way to promote vibrant and healthy looking skin in men and women. Now you can have a youthful appearance by treating those conditions that are typically associated with premature signs of aging and sun damage, such as excessive redness, large pores, uneven texture, and fine-line wrinkles. The Laser Genesis procedure has been scientifically proven to produce new collagen.
Laser Genesis FAQs
How Does Laser Genesis Work?
Laser micro-pulses are delivered to your skin using a medical-grade device, providing a safe level of heat that triggers your body's natural response to produce collagen. This process reduces the appearance of fine lines and it can even reduce the appearance of scars.
How Many Treatments Are Necessary?
The number of treatments you require will depend on your specific aesthetic goals. Generally speaking, optimal results are seen with four to six treatments and sustained results are achieved through ongoing maintenance treatments.
What Conditions Can Laser Genesis Treat?
This skin rejuvenation treatment can be performed on the neck, chest, face, and body. It has proven successful in treating the following conditions:
Fine lines and wrinkles
Diffuse redness and Rosacea
Enlarged pores
Sun spots
Hypertrophic and keloid scars
Nail fungus
Warts
Skin texture irregularity
What Are the Benefits of Laser Genesis Skin Rejuvenation Treatments?
No Pain or Down Time
Laser Genesis works to rejuvenate your complexion from the inside out. That means you are unlikely to experience any discomfort during or after the procedure, and there is virtually no downtime required post-treatment.
No Unpleasant Side Effects
Unlike other treatments, Laser Genesis works gently to target your most troubling skin conditions. It is unlikely that you will experience any type of swelling, bruising, or other types of skin irritation. Some patients notice a slight redness in the treatment area, but this usually disappears within a few hours.
It Is Incredibly Versatile
You might refer to this skin rejuvenation treatment as the "jack of all trades" because it is capable of addressing so many different skin conditions and imperfections. From fine lines and wrinkles to uneven skin texture, large pores, and scars, there aren't many conditions that can't be treated by this revolutionary procedure.
It Delivers a More Youthful Complexion
Laser Genesis does more than correct cosmetic imperfections. It works wonders for revitalizing dull complexions to reveal the bright, healthy glow you remember from your youth.
What Results Can I Expect?
Laser Genesis delivers noticeable results quickly. Within five sessions, you will gradually begin to notice your complexion taking on a radiant, youthful glow. In addition to this glow, your skin will be more smooth. The appearance of fine lines, wrinkles, large pores, and other imperfections will be dramatically reduced for a more even skin tone.
Ready to Try Skin Rejuvenation Treatments?
A youthful, radiant complexion can be yours again, and Xanadu is here to help you discover natural beauty reinvented. Contact us today to request your appointment for this revolutionary skin rejuvenation treatment. Our experienced aestheticians are happy to work with you to help you achieve your cosmetic goals. We look forward to hearing from you!