Men using Botox and Fillers to look younger to compete in the workplace (CNBC)
More men turn to surgery in bid to stay competitive
Men increasingly feel the pressure to look younger.
There's been a 20 percent jump in men going under the knife, laser or needle.
Much of that growth is in minimally invasive procedures like Botox or fillers.
Men looking to fight ageism in the workplace have a new secret weapon: The plastic surgeon's scalpel.
David, a 54-year-old portfolio manager in New York, said he looked around his office when he turned 50, and realized he needed to do something. The days when investors look for a wise, old money manager were disappearing.
"I noticed some colleagues who look older than they are actually starting to have problems. So I decided I wanted to remain relevant and marketable," said David, who requested that his last name be withheld.
That "something" was Botox injections every three months to smooth out lines on his face. He says the $1,000-per-procedure investment keeps him looking 40-something — and keeps his clients happy.
"People do tend to look at external appearance. When your clients think you are younger, they think you are more savvy with technology, social media," he said.
Big jump in procedures
Nationally, there has been a dramatic rise in men getting cosmetic procedures. The American Society of Plastic Surgeons said there's been a nearly 20 percent increase in men going under the plastic surgeon's knife — or laser, or needle — since 2010. Much of that growth is in minimally invasive procedures like Botox or fillers. The number of men getting Botox jumped 27 percent during that span, the Society's reports said.
While there's no national data on why men are "getting work done," New York-based dermatologist Dr. Robert Anolik said that through his conversations with patients, he knew ageism was a driving force.
"I see it all the time. If you are part of start-up or venture capital environment, and you are running around with people who are 25, you don't want to look like you've aged out of that environment," he said. "We are in a youth-obsessed culture right now. People want to attract millennials. Who better to understand them than young people?"
Renato, now 40, felt that pressure.
"It makes me do things like shoot up my face," said Renato, who works in real estate and also asked that his last name be withheld. He started getting procedures when he turned 35.
"Increasingly my clients are getting younger and younger," he said. "They want to work with experienced people, but not people who look like their parents."
Before he started getting laser treatments every eight weeks, Juvederm (a procedure for nasal augmentation) and a host of other treatments, Renato started hearing comments that worried him.
"I had this one client who was a first-time homebuyer in his late 20s. We were talking about social media and apps I wasn't familiar with and he said, 'You wouldn't understand because you are older.' But he was only about five years younger," Renato said.
Some $50,000 later, he said he's thrilled with the results. "I certainly don't look like I'm 40," he sad. "Yes, definitely there was a return on that investment."
A pervasive problem
Patricia Barnes, an ageism lawyer and author of "Betrayed: The Legalization of Age Discrimination in the Workplace", said the trend shows just how pervasive the problem is.
"That's pretty dramatic, to feel like, 'If don't have surgery, I might not have a job," she said. "It's a sad commentary on how insecure older people feel in the workplace today."
Of course, women have long been attuned to the problem of being judged by appearance in the workplace.
"But in the last 10 to 20 years, men have become more interested in how they look and what they wear," said Dr. Debra Johnson, president of the American Society of Plastic Surgeons.
Nationally, women still get more than 9 out of 10 of the plastic surgeries performed, though that ratio is slowly shrinking. Part of the reason: Less ambitious surgeries.
"Men are not eager to do any big procedures. It's harder to do things like facelifts on men because of their hair patterns. But surgical things we do are eyelid tucks, liposuction," said Johnson, a plastic surgeon based in Sacramento, California. "The fatty deposit under the neck, you can clean that up fairly easily. Fillers to soften wrinkle lines."
Most of those smaller procedures cost $1,000 to $2,000, depending on the region, and virtually none of them are covered by health insurance because they are considered "elective," or optional.
Maybe, maybe not
Johnson said that because of the previous recession, many older workers are retiring later. That has helped convince men to consider the implications of looking old and pushed them to take more drastic steps.
In 2016, 18.8 percent of Americans ages 65 and older reported being employed full- or part-time compared to 12.8 percent in 2000, according to a Pew Research Center analysis of employment data from the Bureau of Labor Statistics.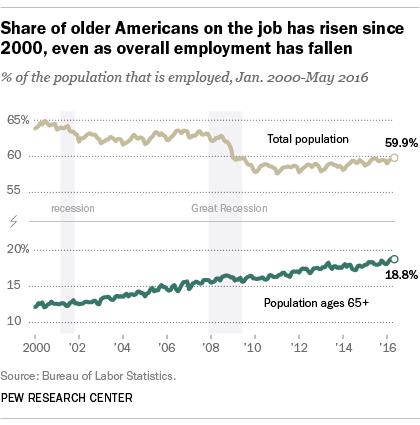 "Their retirement plans got squashed," Johnson said, "so they are trying to recoup (the losses), particularly in the mid-50s to 60s crowd. They want to remain competitive, and they realize they are competing with younger workers."
And that's a reality for both women and men now, said New York-based Dr. Anthony Rossi, who performed Renato's procedures.
"Understanding how we are perceived in the work environment is very critical. You want to be seen as current," he said. "Men are naive to think that this is not applicable to them. Everyone is felling pressure. Historically women have expressed this very explicitly. Men are coming around to it too."
Patients and doctors interviewed by CNBC all said the goal of plastic surgery wasn't necessarily to find the Fountain of Youth, but generally to ward off premature ageing – or just to avoid looking tired.
No longer taboo
"Men don't find it as taboo as it might have been," Rossi said. "They don't want to look older than they are. Men are taking care of themselves. It's like going to the gym or eating healthy. "
That was Joe Allen's motivation. He started getting Botox and Voluma treatments two years ago, at age 52, so he would still fit in at his workplace – a luxury brand he wouldn't identify.
"It helped my neck and jaw line… It definitely shaved off a good 10 years of wear and tear," he said. "I didn't, nor do I, want to fall behind. That's why I keep up my appearance, so I have a youthful look. A clean, crisp look is important."
Of course, there's a reason that most patients declined to give their full names for this story. Secret weapons don't work if the secret gets out.
"The other day I was telling a younger co-worker in their 30s, 'I'm paying off my mortgage,' and he asked, 'How old are you?' David said, recalling a moment when he almost slipped and blew his cover.
"I said, well, it's a 15-year mortgage."
Bob Sullivan Special to CNBC Digital
Men using Botox and Fillers to look younger to compete in the workplace (CNBC)