Laser Tattoo Removal Fort Collins
Say Goodbye to Unwanted Ink with Picosure Laser Tattoo Removal in Fort Collins!
Tattoos don't have to be forever. Many of us got regrettable tattoos in our early years, like the names of ex-lovers or inappropriate college tattoos. Some of us have tattoos that have lost their luster over time, faded in the sun, or are simply no longer in fashion. Luckily, tattoo removal technology has progressed massively over the past decade, and it is now easier than ever to remove an unwanted tattoo.
Here at Xanadu Med Spa, Fort Collins, CO, we can use our industry-leading PicoSure technology to help dissolve pigments on the skin while simultaneously increasing collagen and biotin. This means you get speedy results in as little as two sessions, compared to the 20 you would need from traditional tattoo removal.
If you are searching for a treatment for tattoo removal Fort Collins residents recommend, then look no further. Our friendly staff come highly recommended and have countless positive reviews from previous clients. So book an appointment with a certified laser specialist today.
What is PicoSure® Laser Tattoo Removal?
PicoSure is a specialist laser tattoo removal technology that dissolves the pigment found inside tattoo ink for complete removal. PicoSure comes with FDA approval and is the perfect option for most clients who want rid of their body art. If you are looking for the best option for tattoo removal in Fort Collins, CO, Xanadu Med Spa should be your first contact. No matter the location, size, or ink color of your tattoo, we use expert techniques that do an amazing job of removing unwanted tattoos.
Our laser tattoo removal specialists are skilled and experienced and can advise on the best course of action. Whether that is a complete removal or a cover-up, we can explain the process, answer any questions and book you in for your appointment. Call us today at 970-591-7919 to schedule a free tattoo removal consultation.
The PicoSure laser tattoo removal system uses a cutting-edge laser that targets tattoo coloring pigment in a rapid burst lasting just a trillionth of a second. With such a short burst, there is little heat generated, which means less discomfort to the skin. This rapid burst causes an immediate change in pressure which breaks up the ink into tiny particles that the body's lymphatic system can then naturally eliminate.
PicoSure is a huge improvement and vast leap in the technology we use for tattoo removal in Fort Collins, CO. Previous methods, such as acid and surgical excision, were painful and could result in nasty side effects. Fortunately, the quality of tattoo removal has improved, and we use the safest methods to minimize any risk.
Fast Results, Less Pain With PicoSure Laser Tattoo Removal
Fortunately, compared to previous generations of laser tattoo removal, PicoSure acts nearly five times faster. This means that treatments that used to take up to 20 sessions can now be done in 4 or 5 sessions.
It also improves the texture of the skin as it works, which is vastly different from the old style that caused heat damage and aging. It reduces scarring massively and heals quickly, which is a huge benefit.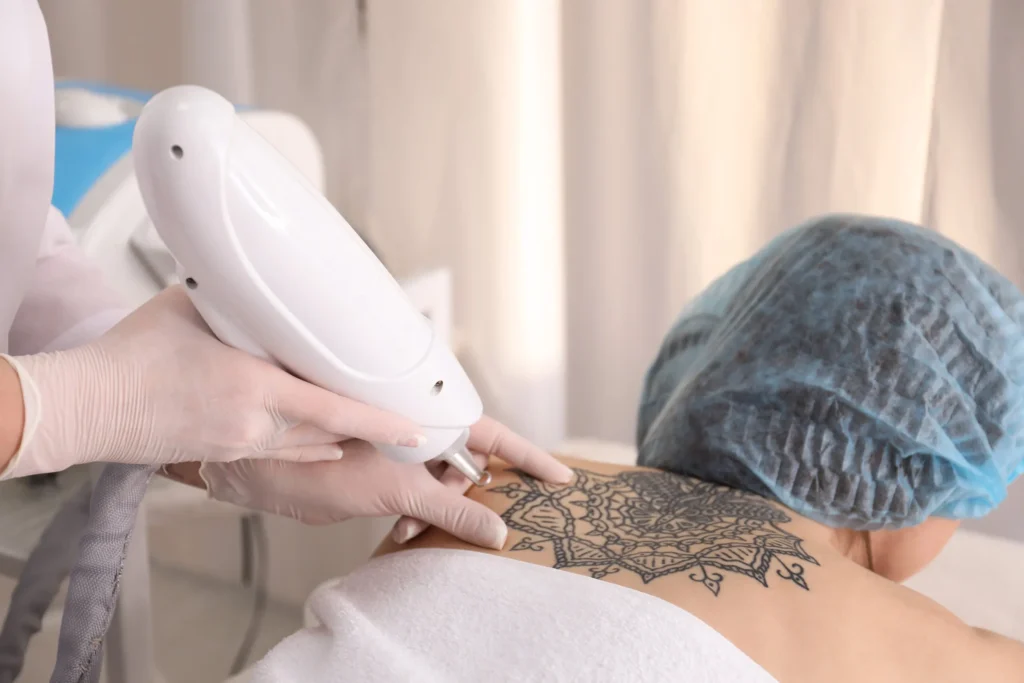 Before and After PicoSure Laser Tattoo Removal at Xanadu Med Spa in Fort Collins
PicoSure makes tattoo removal even easier.
The  wavelength is able to target black, blue, and green tattoo inks, while a optional wavelength offers effective treatment of "sunset colors"—red, yellow and orange—which are typically hard to correct. You'll also be able to:
Tailor treatments using variable spot sizes
Use boost mode to better treat recalcitrant tattoos with shortened pulse width
Treat black ink in darker skin type patients.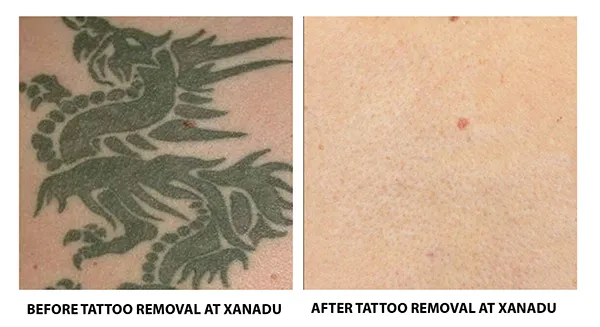 How PicoSure Tattoo Removal Works
Throughout a treatment laser energy is delivered to the unwanted tattoo, targeting the ink and breaking it down into smaller particles. The tiny particles are then eliminated through the body's natural processes, resulting in faster clearance with fewer treatments than traditional lasers.
PicoSure Doesn't Damage Your Skin
Because this system relies on energy pulses and not heat, you don't sustain damage to your skin after this treatment. This means that there won't be any telltale signs of your former tattoo, nor will you experience unsightly skin damage in the area.
PicoSure has incredibly accurate lasers, meaning that we leave what you want and remove what you don't. For example, we can remove part of a tattoo, the background of a tattoo, or even a tattoo that's connected to the one you want to keep. The microscopic laser gives us complete control of where we dissolve the pigment and where we leave it alone.
Every human has naturally forming melanin in their skin. This is what controls our skin color and darkness. Unlike previous generations of laser tattoo removal, PicoSure targets this melanin a lot more efficiently, making it easier to break down ink pigment in skin types that were difficult before.
Many of the older generations of technology did not work on the skin of people of color, but with PicoSure, this isn't the case. PicoSure works on the skin's natural melanin. It also means that the skin looks more natural when healed, particularly darker skin.
Out With the Old, and Out With the New!
It doesn't matter if you've had your tattoo for 40 years or 40 days; PicoSure can handle tattoos of any age. The fresh pigment of new tattoos is no problem with this system, so you don't have to live with ink regret a second longer. As soon as you know you hate your tat, PicoSure is here to save the day (and your lower back).
PicoSure Removes All Colors
Many tattoo removal systems only target black and blue ink on tattoos. PicoSure is no such system. This method can remove any color or pigment, meaning that you can remove background color, shading, faded ink, and more. Many customers opt to clear colors to get a cover-up or new color palette. PicoSure is fantastic at helping them to achieve this goal.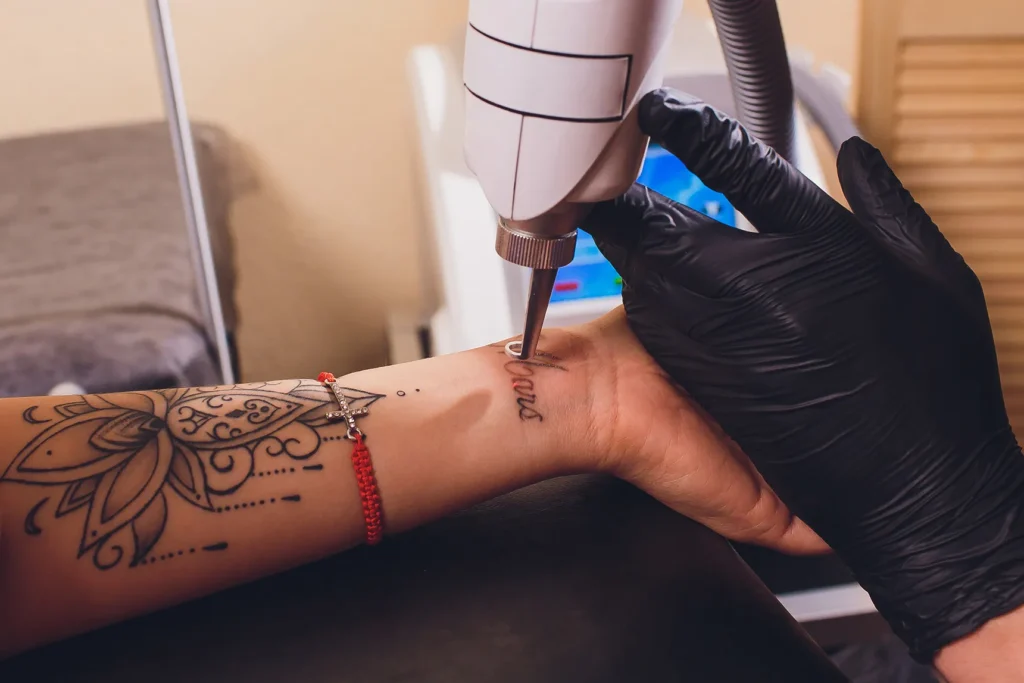 Tattoos are already harsh on your skin, so removing them with traditional heat methods only further damages the skin. PicoSure doesn't use heat, so there is no risk of skin damage. In addition, you won't have to deal with burns, scarring, or discoloration from the laser's heat, giving you a more complete removal.
Many people fear that getting a tattoo removed is more painful than getting the tattoo, as traditional methods have intense and invasive aspects that cause immense pain. Fortunately, that is not the case with PicoSure. This system is minimally painful, and most clients agree that it is far less painful than the long process of receiving a new tattoo. With our PicoSure system, you also don't have to come in as often or for as long. This means lower pain for less time.
What to Expect From Your Fort Collins PicoSure® Session
PicoSure treatment is quick and easy. For average-sized tattoos, treatment times will be around 10 minutes, and there will need to be between 4 and 5 sessions over an eight-week period.
PicoSure is also a lot less painful than previous tattoo removal methods. It will hurt, but most patients describe the pain as similar to getting the tattoo in the first place. Numbing cream can be used if you find the pain too intense after your first session.
Preparation and Aftercare
Does the age of my tattoo matter?
It doesn't matter how old your tattoo is, or if your tattoo is already fading, PicoSure will remove all tattoos.
Are there any potential side effects?
The most common side effects include hyperpigmentation, hypopigmentation, redness, swelling, and itching. However, we use the safest technology to minimize the risk involved in removing a tattoo.
Does PicoSure work on all ink colors?
While many tattoo removal systems only have the ability to target blue and black ink tattoos, PicoSure does not have this limitation. Thanks to the cutting-edge laser system, we can remove all colors and all types of shading.
Does PicoSure Tattoo Removal Hurt?
Patients have described treatments as feeling similar to the actual tattooing process. Your provider may offer numbing cream to minimize any possible discomfort throughout the treatment.
How Long Are The Treatment Sessions?
Treating an average sized tattoo typically takes around 10-15 minutes. Treatments can be longer depending on the size of the tattoo being treated.  Expect that you will need 3-6 treatments depending on the tattoo.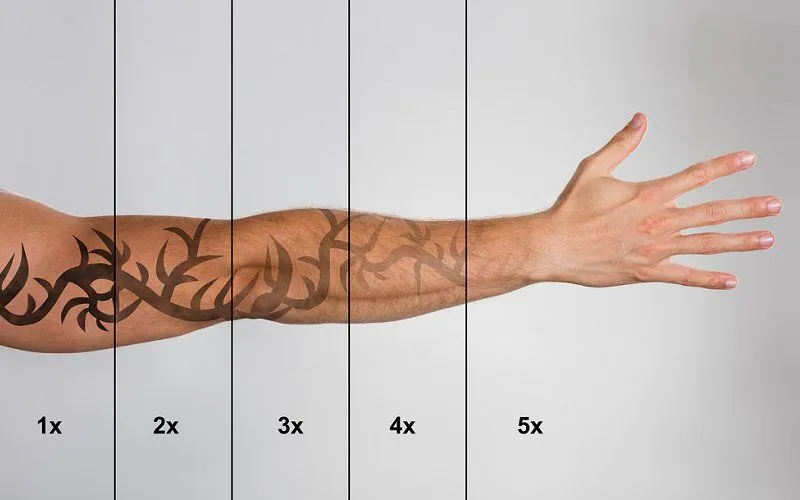 Other PicoSure Treatments
PicoSure isn't just a tattoo removal system. It can also be used for a range of different skin treatments. Here are the other PicoSure treatments we offer here at Xanadu Med Spa.
As a teenager, many clients used some strange and questionable methods in order to rid themselves of teenage acne and zits. Sometimes in doing so, they created long-lasting scars. The PicoSure system can be used to trigger collagen and elastin production in the skin, which in turn reduces visible scarring.
Many of us are born with birthmarks and freckles that we wish we did not have. These marks can cause an uneven tone in our skin and may bother us, even as adults. PicoSure can help break up the cells that cause these birthmarks and discoloration and disperses them, making them less obvious.
Wrinkles have always been one of the biggest indicators of age, and while many products on the shelves "claim" to help, PicoSure definitely does. By triggering elastin, your skin regains some of its youthful elasticity and collagen production, which tightens skin and removes wrinkles.
Contact Xanadu Med Spa Today!
As PicoSure providers, our team here at Xanadu Med Spa, Fort Collins, are experts in tattoo removal treatments, so call us today to discuss your needs. We can talk you through the process and answer any questions that you may have regarding the treatment. At Xanadu, we provide a broad range of affordable and relaxing medical spa services, including tattoo removal, massage, hair removal, hormone replacement, and more. We pride ourselves on exquisite professional service and the best quality equipment.
Call us today at 970-591-7919 for a free consultation where we will discuss your specific needs