Fort Collins Cellulite Removal
After years of using creams and massage therapies that never seem to work, there's now a new FDA-approved, safe and effective cellulite treatment using a system called Cellfina™. This breakthrough device is designed to treat cellulite on the buttocks, thighs, and various other regions of the body. Xanadu Med Spa is the first practice in Fort Collins to offer Cellfina™, which promises to eliminate even the toughest cellulite and produce smooth results that provides what is essentially a permanent outcome.
---
Cellulite
Cellulite is a condition in which persistent subcutaneous fat within fibrous connective tissue that causes unsightly skin dimpling, especially on women's hips and thighs. Fibrous bands connect the skin to the fascia that covers the underlying muscle. When the bands contract, they pull down on the skin, creating a pitted appearance. Women are more prone to cellulite than men.
Cellfina™ for Smooth that Lasts
Cellfina system, a cellulite treatment, is the size of a smartphone and works mechanically without laser, heat, sound or radio waves. It is a minimally-invasive, limited-downtime cellulite procedure that starts with applying local anesthesia to the affected area. The treatment area is prepared and numbed by marking the spot or area to be treated and injected with of lidocaine, an anesthetic numbing agent. Then the Cellfina device grabs the skin with the aid of suction and slides a miniature blade about six millimeters below the skin to cut the attachment, releasing the fibrous bands that cause the dimpling. Overall, the procedure takes about an hour. Cellfina can reduce the appearance of cellulite in just one session. The device has been out for a little over five years.  Results last at least that long – and there is no reason to believe they can't last a lifetime.  Within a few days after treatment, patients in the FDA study were showing great results. At three months, 85 percent were satisfied and at one year, 94 percent were satisfied!

Cellfina Recovery, Results and Side Effects
After your Xanadu cellulite treatment in Fort Collins, it's not uncommon to experience some soreness, bruising, and tenderness — all of which should resolve within a few days following your Cellfina™ treatment, with a little or no downtime involved. There can also be some oozing of the anesthetic fluid after the Cellfina procedure. We recommend taking off from work the next day and taking it easy. We recommend scheduling your Cellfina procedure at least four weeks before a vacation so that most of the bruising and swelling can have time to resolve in time for your vacation. In the FDA study, 90 percent of patients had no bruising at four weeks post-treatment. Your Cellfina specialist may provide you with specific instructions to follow after your procedure to ensure that you experience optimal outcome. Most people begin to notice an improvement in the appearance of their cellulite in as little as three days after their Cellfina treatment. Your final results can continue to develop over the course of several months to one or two years. There have been no reported serious side effects associated with the Cellfina procedure. 
---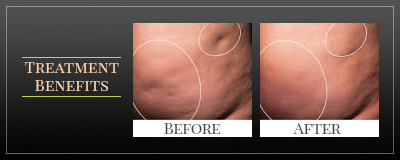 ---
Cellfina Treatment Benefits
Cellfina is a cellulite treatment that boasts a wealth of  benefits. From having the highest long-term satisfaction rates of any notable cellulite treatment to being minimally invasive with limited downtime, there's simply a lot to like. What's more, it's a one-time treatment that is largely well-tolerated by patients, not to mention the fact that it's FDA-cleared! But, perhaps most encouraging of all, Cellfina System offers significant, rapid improvement that lasts upwards of three years! If the outcome you are looking for is a smooth look and feel that gives you a newfound confidence, in public or in private.
---
Cellfina FAQ
How soon can I expect to see improvements?
Most people begin to see noticeable improvement within three days of the procedure. The satisfaction of the results often improves over time as well, with one study finding that 93 percent of patients were satisfied after three years (as opposed to 85 percent at three months), a figure that surpasses the satisfaction rates of other well-known cellulite treatments.
How long can I expect results to last?
As is the case with most everything, it depends. However, Cellfina offers results that last at a very minimum of five years, according to a detailed study, which is the longest FDA clearance for any cellulite treatment!
Is there any kind of cutting involved?
Don't worry; Cellfina involves no general anesthetic or operating rooms. There is a minimally-invasive, very small device which treats the bands found right under the skin's surface.
How long does a Cellfina procedure take? Should I plan to take time off?
While everyone is unique, a single treatment takes around 90 minutes to complete. The results will dramatically improve the appearance of cellulite on the thighs and buttocks. And while a minority of patients experience limited tenderness and soreness, most folks are able to continue with their daily lives upon completing a Cellfina procedure.
What Is The Cost Of Cellfina Treatment At Xanadu?
Cellfina Treatment is specifically tailored to each individual patient, and as such, the unique cost of each treatment is subject to vary. At Xanadu, we take the time to explain each component of the cellulite treatment in addition to its associated cost. We want you to feel comfortable and excited about your entire experience at Xanadu!
Who Can I Talk With About Cellfina?
Excellent question! We at Xanadu Med Spa are more than happy and qualified to take your call and discuss your options with you over the phone. We are committed to the long-term well-being of our clients here at Xanadu, and we'll treat you with the dignity and care that you deserve while informing you about which treatment route might be best for your unique situation.
Am I a Good Candidate for Cellfina?
At Xanadu Med Spa we are committed to personalized care, and we only administer treatments if it's truly in the client's best interest.  As such, we determine candidacy for all of our procedures on an individual basis, following a thorough discussion of your cosmetic goals, concerns and desires.  With that said, the main criteria for a Cellfina candidate is the type of cellulite present, with ideal candidates having cellulite that has a dimpled appearance, rather than long wavy lines. However, please note that the only way to know for sure if you will benefit from undergoing among the best Cellfina Colorado has to offer is to speak with us in person at your convenience.
Why Xanadu?
Relax. Renew. Rejuvenate. Like we mentioned above, we have your well-being in mind no matter if you are looking for a cellulite treatment or a simple day spa experience to clear your mind and elevate your mood. Step foot through our doors and experience the Xanadu difference for yourself! Schedule a consultation today.